Sign up and be the first to know about our product updates and exclusive offers.
IT Asset Management and Tracking and Monitoring software for any organisation
Whether you're an SME or a large corporation, with workplace practices shifting and changing, there's one thing that needs to be rock solid: the technology that keeps you operational. 
With NetSupport DNA you can track, monitor and manage your IT assets and endpoints, plus maximise efficiency and ROI with proactive and automated tools – all from one comprehensive toolbox. 
Glass, Ceramics & Concrete
I like that DNA gives me a lot of information that I need and not too much of the stuff I don't. Keeps it simple. This is one of the best tools in this category that I have found and used.
Gregg Z, Desktop Support
Used NetSupport DNA for 6-12 months
Government Administration
It's a great companion software for any tech support shop. It's great to have all that information on your users at your fingertips.
Craig E, Programmer
Used NetSupport DNA for 1-2 years
Hospitality
With this software is easy to control a lot of variables on your intranet clients such a internet traffic, USB port Control, software and hardware client inventory, alerts and much more.
Riad A, Director
Used NetSupport DNA for 2+ years
How does our IT Asset Management solution work?
Discover
NetSupport DNA starts by automatically discovering and installing an agent on targeted devices across your organisation. Constantly monitoring your network, it identifies any new devices that join, providing an option to deploy an agent for future management – no more manual searches or surprises!

Monitor
Once installed, NetSupport DNA goes to work collecting detailed data, helping you to gain a summary of all IT activity, even for specific users and departments. From hardware/software inventory and app/web metering to energy/power management – it can all be summarised in customisable reporting tools.

Maximise
Maximise your technology investment so you can enjoy all its benefits and reap the rewards. Re-deploy under-utilised hardware, discover PCs that are upgradeable, identify licences that aren't being used, PCs left running out-of-hours and where print costs are generated.
Protect
NetSupport DNA adds an extra layer of network and data protection by proactively alerting you to any issues before they escalate, preventing sensitive data loss or virus infection with endpoint security, a secure Vault component to store confidential IT data with confidence – and more! 
What are the benefits of NetSupport DNA?
Work smarter… not harder
Armed with a complete overview of IT activity (device and usage data) and customisable reports, NetSupport DNA makes you 'all-knowing', allowing you to work smarter, make better informed decisions and accurately plan future IT spending and refresh cycles.
Making your funds go further
With NetSupport DNA, you gain an instant overview of where you're spending unnecessarily and where your business can make further efficiency savings. From printing costs, wasted energy, unused software licences or hardware – start saving today and achieve a swift return on your investment!
Supporting and managing users
NetSupport DNA provides a range of features so you can efficiently locate, manage and support users and assets within a networked environment – tailoring the data being gathered from each user. Staff remain on task and working effectively within their contracted hours.
Network and data security
Keeping your company's IT systems secure and running efficiently is a priority. So NetSupport DNA supplies you with the essential tools you need to safeguard your systems and shield them from security threats – whether external or internal – avoiding lost productivity and revenue.
All new corporate whitepapers!
With 21 million installations across the globe, NetSupport's products are tried, tested and trusted by businesses large and small. Our whitepapers spell out exactly why, covering how our technology works for you to keep your organisation secure, efficient and operational.
Check out our whitepapers to see the gains your organisation could make with NetSupport's solutions on board!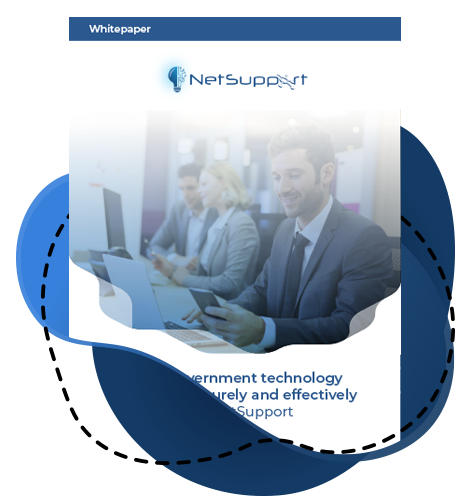 Subscribe to stay informed