Resources to get started with NetSupport DNA
Ready to get started with NetSupport DNA? From manuals, user guides, product video tours and much more, get all the resources you need to install and maximise the benefits from NetSupport DNA.
Brochures


NetSupport DNA has a sever component, a main management console and desktop agents. There are also supporting apps for iOS and Android devices.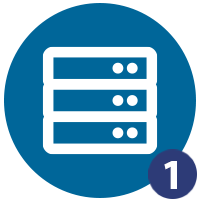 1. Install the NetSupport DNA server onto a Windows PC. The server stores the data retrieved from the agent (staff/student) devices.

2. Install the management console (Windows only) onto the technicians' PCs to monitor and manage IT activity across the organisation. The console connects to the server, allowing the IT team to access the data collected.

3. Deploy the agent onto every staff/student device (Windows, macOS, Chrome), plus the Android Browser App and the iOS Browser App – to track activity and manage the devices.

4. Install the mobile console onto any iOS and Android devices used by the IT team for on-the-go support.
To access all the components, simply enter your details on this page. You will then be re-directed to our component page where you can access the main NetSupport DNA download, along with optional apps for multi-platform support and optional server modules for SNMP Discovery and Remote Gateways.
Simply visit the 'My Support' page and access our user Knowledge Base – plus, you can raise a support ticket for help with any issues.
Subscribe to stay informed