Evidence
Before making a purchase, it's wise to seek out reviews and experiences from other companies already using NetSupport DNA.
Learn more here from our selection of case studies, testimonials, reviews and articles!

0
users worldwide

0
countries sold in
0
years of development
Testimonials
Take a look at these comments from customers using NetSupport DNA to discover the impact it has had in their companies.
Glass, Ceramics & Concrete
I like that DNA gives me a lot of information that I need and not too much of the stuff I don't. Keeps it simple. This is one of the best tools in this category that I have found and used.
Gregg Z, Desktop Support
Used NetSupport DNA for 6-12 months
Government Administration
It's a great companion software for any tech support shop. It's great to have all that information on your users at your fingertips.
Craig E, Programmer
Used NetSupport DNA for 1-2 years
Hospitality
With this software is easy to control a lot of variables on your intranet clients such a internet traffic, USB port Control, software and hardware client inventory, alerts and much more.
Riad A, Director
Used NetSupport DNA for 2 years+
The Senator Group
NetSupport DNA paid for itself within weeks of installing, enabling us to locate software we believed lost and would otherwise have paid to replace.
Unicef
NetSupport DNA has solved all of our needs and has even more functionality than we expected.
PC Pro
Easy to deploy, NetSupport DNA has the features you'll be hard pushed to find in other asset management solutions.
Redmond Magazine
NetSupport DNA can have a significant impact on an organisations bottom line. Cost savings can be real and tangible.
LA Fitness
We were delighted at the ease with which NetSupport DNA and ServiceDesk integrated and complemented each other.
Dawleys
We have the ability to see exactly where all our PCs are – and with DNA pro-actively finding new devices on the network, it has been a real time saver.
City of Dickinson
NetSupport has helped us keep staff more accountable for their usage of technology, which in turn means more time spent on work and less time spent surfing the web. 
Quantum Profile System
Complete information about my network, devices and user activity in one central place with full audit reports as standard. What more can you ask for?!
IT Pro
It's easy to deploy, gives a wealth of valuable information and is even more versatile.
AFL Architects
Before NetSupport DNA there was only a thin line between strategy and chaos. Now I am able to manage three sites across the UK from an armchair!
KCEOC Community action
With NetSupport DNA, I can generate reports to see results and savings. This is an important feature for us as we weren't able to do this with any other products we tried before.
Digital Applications International
NetSupport DNA has helped us reduced our spending on software and hardware as we know exactly what we have and what we do/don't need.
Cork National Roads Office
Due to there being many automated processes within NetSupport DNA, it really has saved the IT team a lot of time.
Dawleys
We use NetSupport DNA to track and monitor all our IT assets across the business and keep an up-to-date inventory, which is great for renewing or redistributing items.
All new corporate whitepapers!
With 21 million installations across the globe, NetSupport's products are tried, tested and trusted by businesses large and small. Our whitepapers spell out exactly why, covering how our technology works for you to keep your organisation secure, efficient and operational.
Check out our whitepapers to see the gains your organisation could make with NetSupport's solutions on board!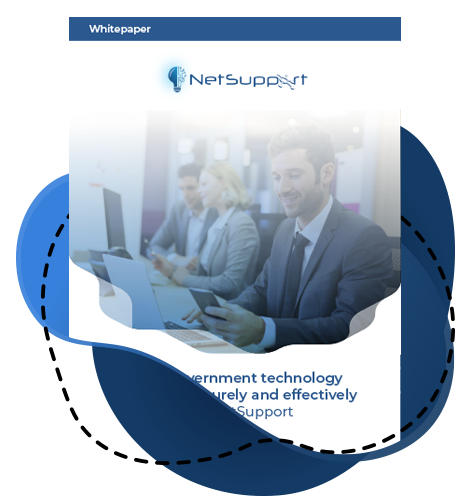 Subscribe to stay informed